At Stockton Machine Company we use only the latest software that allows for multi format CAD files to be sent direct to our CAD suite. This allows for rapid response to all enquires. Equally we can complete works from a simple drawing or create a replica of a sample part.
As part of our full service to industry, our investment spans to 5th axis technology which enables us to carry out very complex procedures with ease. Our technology and staff allows SMC to react quickly and with confidence to any machined engineering requirement and provides a complex component, with industry leading lead times, at an affordable price tag.
Yes, we can! That's our philosophy.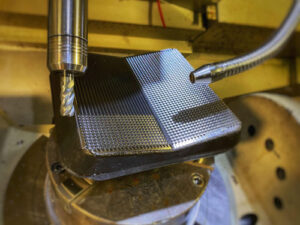 Specialising in bespoke rapid turnaround engineering solutions, Stockton Machine Company pride themselves in tackling the jobs their rivals won't or can't do. It's this "can do" attitude that's seen us getting its teeth into new industries, as well as strengthening bonds with established clients.
Investments in new hi-tech machinery have helped SMC grasp new opportunities beyond our traditional customer base and into multi-disciplined industries. SMC have grasped new work within the offshore renewables sector as well as pharmaceutical and the oil and gas industries.
The company has also sealed new customers within the food processing industry that it has served since the early 1980s. Our dedicated and loyal staff understand the reason we're winning business in a wide range of sectors is because of our willingness to take on high-pressure jobs that others won't touch and they appreciate that's what our customers want.
It's this philosophy that will keep SMC going well into the next 50 years.
Small enough to care, large enough to cope.